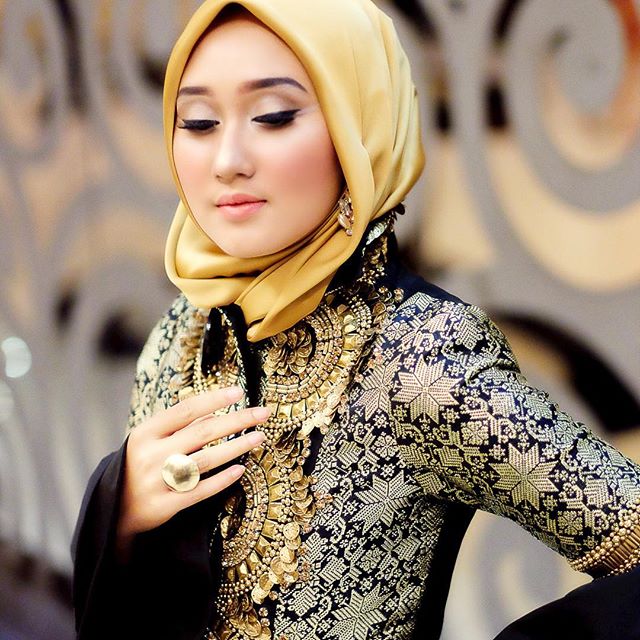 Dian Pelangi
Dian Pelangi is a digital influencer and tour de force in the global Muslim fashion scene and beyond. The Indonesian designer is credited with pushing the traditional boundaries of Muslim fashion, and with her extensive social media following — she currently has 2.5 million Instagram followers — Pelangi is influencing a broad demographic with her modern take on Muslim dress. One of the orginal hijabi style sensation, she is a pop culture icon with a growing modest fashion brand with a youthful, vibrant, playful spin.
With her sense of colour, bold prints and fusion of traditional and western silhouettes, Pelangi is celebrated for turning the typically subdued-toned Islamic dress on its head. Her success is emblematic of the wider Islamic style and Muslim designer-wear movement and growing market rising out at specialised fashion weeks in Indonesia and Malaysia.Pelangi has held fashion shows in Britain, France, Germany, Holland, Australia, Dubai, Egypt, Kuwait and Jordan and is a regular at Jakarta Fashion Week – where she showed her first collection at just 18. She is a brand ambassador for Wardah Beauty cosmetics and a keen travel blogger.
In 2012 Pelangi published her own book; a visual street-style collection of Muslim women who have inspired the designer and entrepreneur on her travels.Pelangi is the namesake of the Dian Pelangi brand, founded in 1991 — the year of her birth — by her parents. It has since grown into a company with more than 500 employees and 14 retail stores. Under Pelangi's direction, the brand has become known for its vibrant colour palettes – she cites the rainbow and the global Islamic community as her key design inspirations.
Artisans using age-old techniques such as batik, tie-dye and beadwork make all garments by hand.Pelangi graduated from École Supérieur des Arts et Techniques de la Mode in Paris in 2008. In 2015, Pelangi took part in the 'Designer in Residence' initiative at London College of Fashion , where she advocated strongly for diversity in fashion, organising a hijab styling workshop as part of the British Council's international fashion showcase.
https://www.businessoffashion.com/community/people/dian-pelangi
Company Details
Jl. Kemang Selatan IV No. 79K RT 8/RW 2, Bangka
Mampang Prapatan. Jakarta Selatan. DKI Jakarta. 12730
Indonesia
+62811-9607474